Immersive Date Ideas in London
Immerse yourself in another world with your significant other.
Enjoy a day/evening with your loved one by entering a brand new realm.
We have listed the best immersive experiences we think are also wonderfully romantic!
Moonshine Saloon
https://www.moonshinesaloon.com/
All visitors are taken from the streets of East London to the streets of the Wild West through Moonshine Saloon, which combines immersive theatre with a top-notch cocktail drinking experience, with the promise of making a fortune in an illegal moonshine smuggling enterprise at the top of its game.
They will test your courage to join the smuggling gang by having their bartenders brew up a bottle of your finest booze for them.
Keep their prospective business discreet if the Sheriff is in town since you never know who might show up in the saloon!
He has been made aware of a possible moonshine distillery in Coldwater and is already on the defensive. I am above the law, despite what he names me!
The Murder Express
https://www.funicularproductions.com
An immersive theatre dinner that takes place aboard a train. Featuring a custom menu created by Louisa Ellis, a professional finalist on MasterChef.
In 1937, at the height of the British Empire, Dr. Errol Earhart, Britain's most renowned archaeologist, unearths the Jewel of the Empire, the world's most expensive diamond, and transports it to the Von Cleethorpes estate on the Murdér Express from Pedley Street station.
Along with the murder mystery, this amazing adventure will take you through twists and turns and introduce you to a number of new characters who are not always who they seem to be.
The Jewel of the Empire is soon lost, bodies start to pile up, and time is running out to find the murderer and get the diamond back.
They warmly invite you to join them for a brand-new murder mystery including a brand-new specialty cuisine.
But keep in mind that nothing is as it seems, and you yourself are a suspect.
Cahoots London
https://www.cahoots-london.com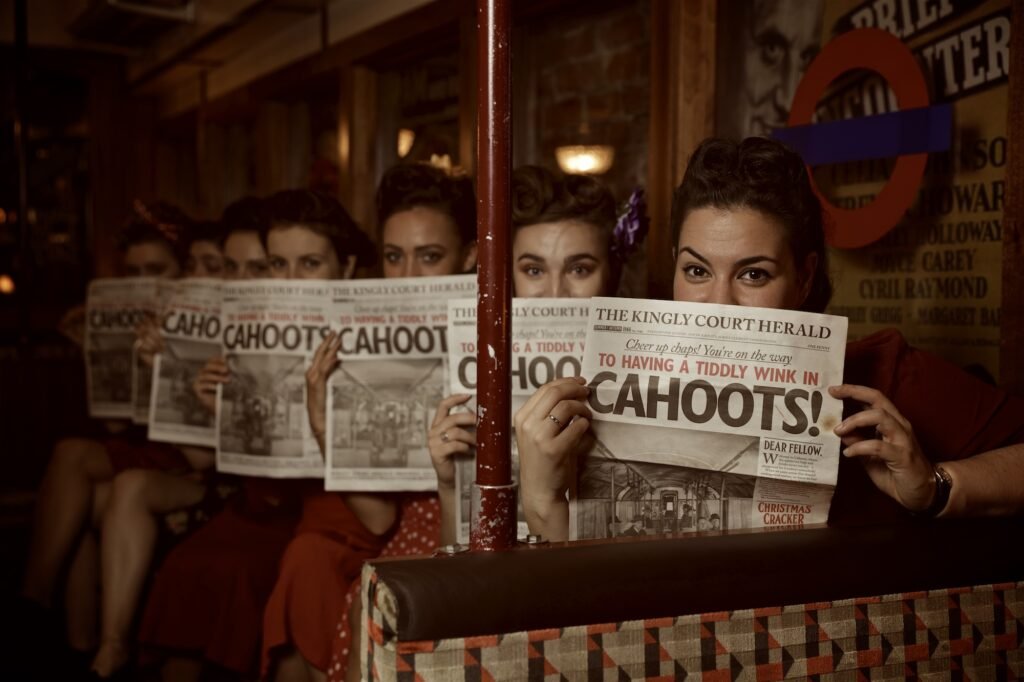 In the centre of London's Soho stands Cahoots, a bar with a 1940s motif. The hoodlums of this station-speakeasy, located inside a deserted train station, provide swanky drinks, merry fare, and live swing music seven days a week. Step back in time and explore each unique room as you indulge in "High Spirits, Scoundrels & Swing!" The Underground, Ticket Hall, and Signal Station are made up of these three spaces.