Why not Drink & Play at London's Top Activity Bars?
Whether it's for date, office event, or good old-fashioned get-together, have fun in these activity bars!
There's nothing like celebrating a birthday or a long-time-no-see get-together with some old-fashioned party games and beers. So why not shake it up this time by going to one of the city's Top activity bars?
Gravity Wandsworth | Wandsworth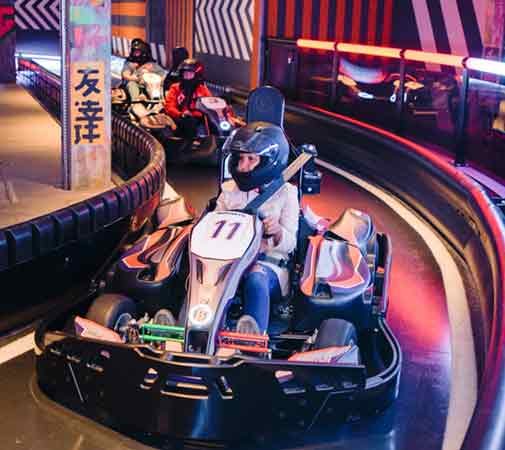 Gravity is definitely the go-to spot if you're looking for something out-of-this-world! They have a Japanese-themed multi-level e-karting course, augmented reality bowling, urban street golf, and an electric gamebox. Call yourself a gamer? Step into the E-sports Gaming Arena, and show off those opposable thumbs with their state-of-the-art screens and controllers!
And we, of course, can't forget to include the booze. Get into the spirit at Gravity's cocktail bar on the top floor which is strictly adults-only, so you can let your hair down, while the kids run wild downstairs. They also have a delicious noodle bar and buffet.
Otherworld | Haggerston & Victoria
An immersive virtual reality arcade and bar located in either an old East London railway arch or Victoria. In Haggerston, there are 16 different games to pick from, as well as pizza and drinks created by an ex-Milk & Honey mixologist, and a self-pouring cocktail bar in Victoria.
Escape reality and warp between worlds in this virtual island paradise's sixteen unique VR experiences. When it's time to take off, step into your own sense-hacking virtual reality pod and reunite in the game with friends as different avatars. It's like Tron Reinvisioned!
Roof East | Stratford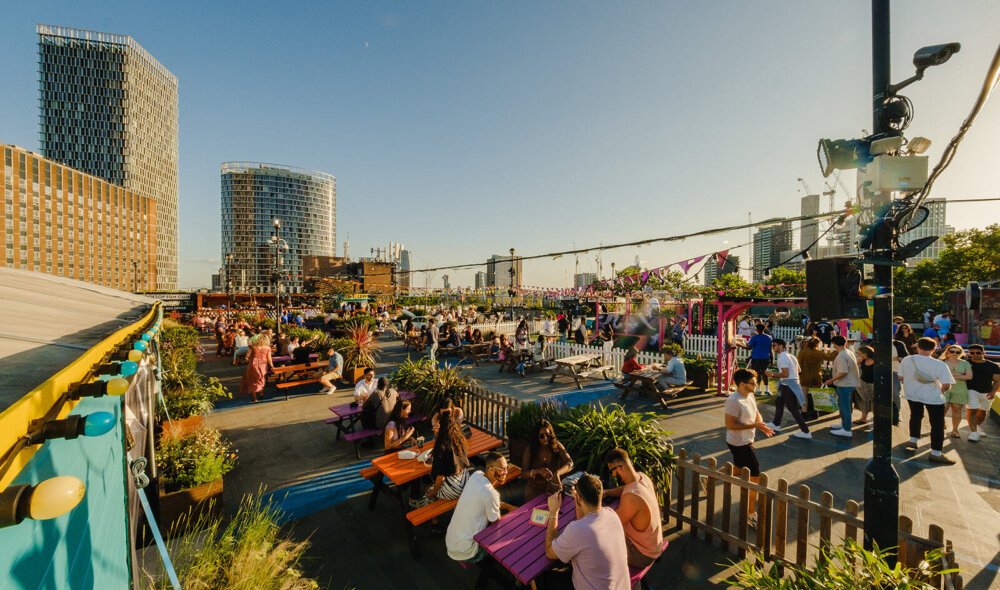 Roof East is the place to be this Summer! It has all the old-school activities that you played as a kid such as arrows, Birdies Crazy Golf, jumbo topple blocks, lawn bowls, ping pong, car park karaoke, and Sluggers batting cages. And the best thing is, it's on a Roof so you can get a glimpse of those terrific sunny views this Summer!
As for food, Roof East has a good selection of guilty pleasure burgers, Indian street food, Turkish wraps, and sweet treats. You can also help yourself to beers, cocktails, wines, and all of the above at their Bar.
Flight Club | Sherditch, Bloomsbury, Islington, Victoria
Up for a game of darts? Flight Club has animated, automated dartboard scoring, virtual guidance, a selection of fast-paced games, pizza boards and canapés, and touch screen interfaces designed by a rocket scientist, and is from the same team that brought you Bounce and All-Star Lanes. And there's booze.
You can join them for their bottomless Brunch Social every Thursday where the prosecco and pizzas keep on coming!
Strike | Wandsworth
South-West London has never had a boutique bowling alley, nice darts bar, Or shuffleboard with technology. But now it has all three with Wandsworth's Strike which is housed in the country's oldest brewery, offers all of these sports as well as the city's first duckpin bowling alley (smaller ball, shorter pins, more ducks).
You won't want to share the traditional diner food, cocktails, and tank-fresh beer.
The Four Quarters | Peckham, Hackney, Elephant & Castle
Go back to a simpler time in this Arcade bar. Pong, Asteroids, Tron, Pac-Man, and Streetfighter II are just a few of the iconic arcade and video games available on all original, antique equipment at this retro bar/pub. They've got spots in Peckham, Hackney Wick, and Elephant & Castle, and they're like a time warp from the 1980s.
ABQ | Hackney
In their new funhouse venue in Hackney, ABQ is the world's first immersive molecular cocktail bar, where you can manufacture and infuse your own beverages to some pounding hip-hop and gangster rap sounds.
Inside the venue is a full-fledged RV Motorhome! Just like in Breaking Bad, when the mad chemist cooks his own way!
You will be seated in either the RV or The Lab, depending on availability, to "cook" your beverages. The Lab is a location just next to the RV that delivers the same experience as sitting inside.
Acids, aprons, masks, booze, a lot of fun, incredible music, and other goodies are given.