V&A Illustration Awards 2022 Winner Announcement
The V&A has announced that Gérard DuBois has been awarded the Moira Gemmill Illustrator of the Year Prize and Book Illustration Winner 2022.
DuBois was commissioned to illustrate a new edition of Cormac McCarthy's The Road, published by The Folio Society, and his acrylic paintings, described by the judges as 'masterpieces', perfectly capture the beauty and brutality of McCarthy's text.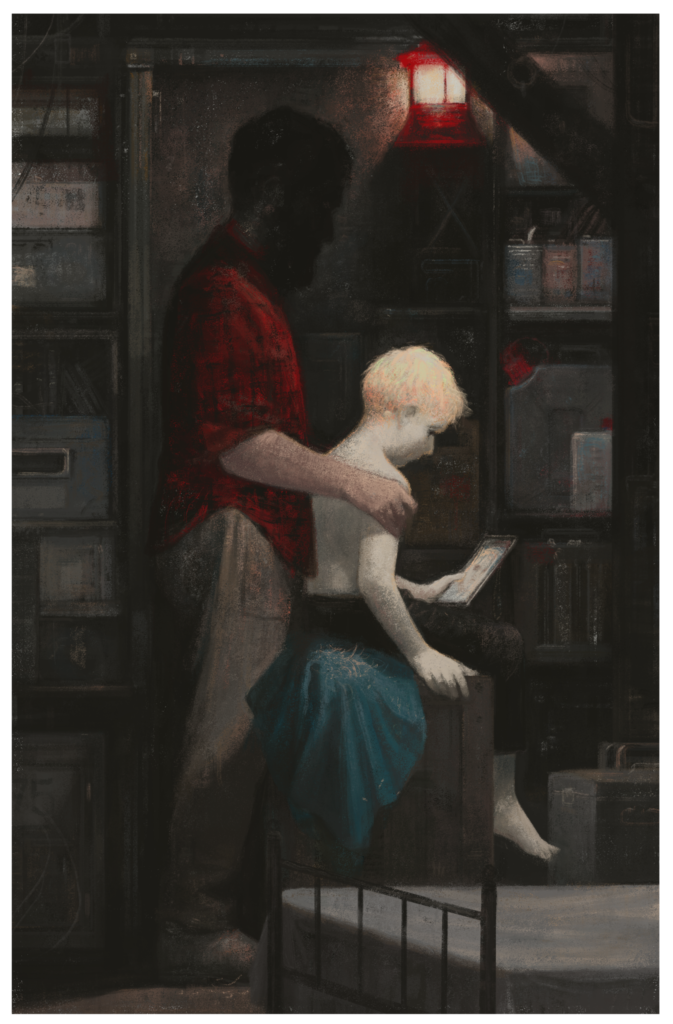 The awards – now celebrating their 50th year – are a celebration of excellence in illustration in 2020 and 2021 across four categories: Book Illustration, Book Covers, Illustrated Journalism and Student Illustration. Nearly 1500 works were submitted, spanning a broad range of illustration styles and subjects, from the tragedies and challenges of the past two years to the stories which have comforted us.
The 2022 winners were selected by a judging panel of illustrators Dapo Adeola, Ann Kiernan, Axel Scheffler and Posy Simmonds, chaired by V&A Director Tristram Hunt. The winners, runners up and highly commended entries will feature in a display at the V&A from 20 July, alongside previous winners, to celebrate the awards' 50th anniversary.
Gérard DuBois said: "It is a tremendous honour to have my work noticed by such a prestigious institution as the V&A. To me working on this book was already one of the highlights of my career, and this recognition makes it even more special. I dedicate these awards to Mr Cormac McCarthy, to whom I want to express my deepest gratitude to for allowing me to illustrate his words, and to The Folio Society."
Axel Scheffler, animator and illustrator of The Gruffalo said: "It's been very enjoyable to be part of the jury for this year's V&A illustration prize. The standard of entry was very impressive and we have chosen some worthy winners. Gérard DuBois' paintings are beautifully atmospheric and cleverly convey the feeling of the book. DuBois has a great sense for composition and colour. Couldn't be better."
Rosalind McKever, Curator, Paintings and Drawings said "In the 50th year of the V&A Illustration Awards, we've seen a record number of submissions. Their high quality and sheer variety are testament to the vibrancy of the illustration industry, which the V&A is proud to recognise through these awards, its collections and commissions."
Each category winner will receive £3,000 and the student runner-up receives £2,000. The overall 2022 winner of the competition is awarded the Moira Gemmill Illustrator of the Year Prize and receives an additional £5,000. Their work will join the V&A's outstanding collections of illustration, including works by renowned artists such as Aubrey Beardsley, Sir John Tenniel, E.H. Shepard, Quentin Blake and Posy Simmonds.
A full list of award winners, runners up and highly commended entries is below:
Winner of the Book Illustration category: Gérard DuBois, The Road by Cormac McCarthy. Published by Folio Society, 2021
Based on Cormac McCarthy's The Road, the work depicts a man and boy making a harrowing journey through post-apocalyptic America, inching towards the sea in the hope of salvation. In Gérard DuBois' stunning illustrations, striking moments of tenderness between father and son provide bright spots amidst the desolation. Judge Posy Simmonds described the works as 'magnificent, rich, poignant and melancholic'.
Runner-up of the Book Illustration category: Luisa Jung, Brain Fables: The Hidden History of Neurodegenerative Diseases and a Blueprint to Conquer Them by Alberto Espay and Benjamin Stecher. Published by Cambridge University Press, 2020
Winner of the Book Cover Award category: Kerry Hyndman, The Rich House by Stella Gibbons. Published by Penguin, 2021
Kerry Hyndman's work is primarily digital, incorporating hand drawn textures and layers to the image to add depth and detail. Observed from a clifftop, three women stroll across a beach. The encroaching sea and hovering seagull, and their footprints and shadows, suggest the setting of Gibbons' novel – a seaside resort on the eve of World War Two – and its story of intertwined relationships. The judges praised Hyndman's eyecatching composition and beautiful draughtmanship.
Runner-up of Book Cover category: Lela Harris, The Color Purple by Alice Walker. Published by Folio Society, 2021
Winner of Illustrated Journalism category: James Albon, 'Tiktok' by La ZEP, in Libération, 2021 James Albon's illustration accompanied an article, written by young people, speaking to their first-hand experiences of the social media platform Tiktok, especially its hypnotic and negative effects on the self-image and mental health. The hypnotizing effect of social media is
destabilizing Albon's image: Entranced by their phone, the figure's eyes swirl, as do their hair, clothes and bedding. The eerie nocturnal scene is created with a blue and yellow palette, working in watercolour and gouache. The judges praised the humour and energy of the work.
Runner-up of Illustrated Journalism category: Alexis Tsegba, 'The price of having black hair in a white world' by Tamara Gilkes Borr, in The Economist's 1843 Magazine, 2021
Winner of Student Illustration category: Kate Rolfe, Navigating Dyslexia. Anglia Ruskin University (Cambridge School of Art)
In Kate Rolfe's work, letterpress characters form impenetrable forests, tumble from books and pile high in an overwhelming wave of anxiety. Based on her personal experience, Navigating Dyslexia combines cyanotype and letterpress processes to communicate the nuanced experience of a person with dyslexia. The judges praised its humour, simplicity and ingenuity. Using traditional printmaking in a non-conventional manner allows Rolfe to ask important questions in an accessible and engaging fashion.
Runner-up of the Student Illustration category: Chenyue Yuan, Pearl's Daughters. Royal College of Art
Highly commended in the Student Illustration category: Jessica Ciccolone, Five Puffins in Antarctica. Anglia Ruskin University (Cambridge School of Art)
Highly commended in the Student Illustration category: Klara Bianka Gryglicka, My Summer | Visual Diary. Anglia Ruskin University (Cambridge School of Art)
Highly commended in the Student Illustration category: Yehyeon Yu, My Answer Sheet. Kingston University