National Gallery Acquires Swiss Alpine Landscape, in a First For English Public Collections
National Gallery acquires first Ferdinand Hodler painting in an English public collection with daring Alpine landscape.
The National Gallery has acquired its first painting by Ferdinand Hodler (1853 – 1918), the leading Swiss artist of the turn of the twentieth century. The Kien Valley with the Bluemlisalp massif, an astonishing alpine landscape painted in 1902, is the second work of Hodler's in a UK public collection, after Lake Thun and the Stockhorn Mountains was acquired by the National Gallery of Scotland, Edinburgh, in 1975.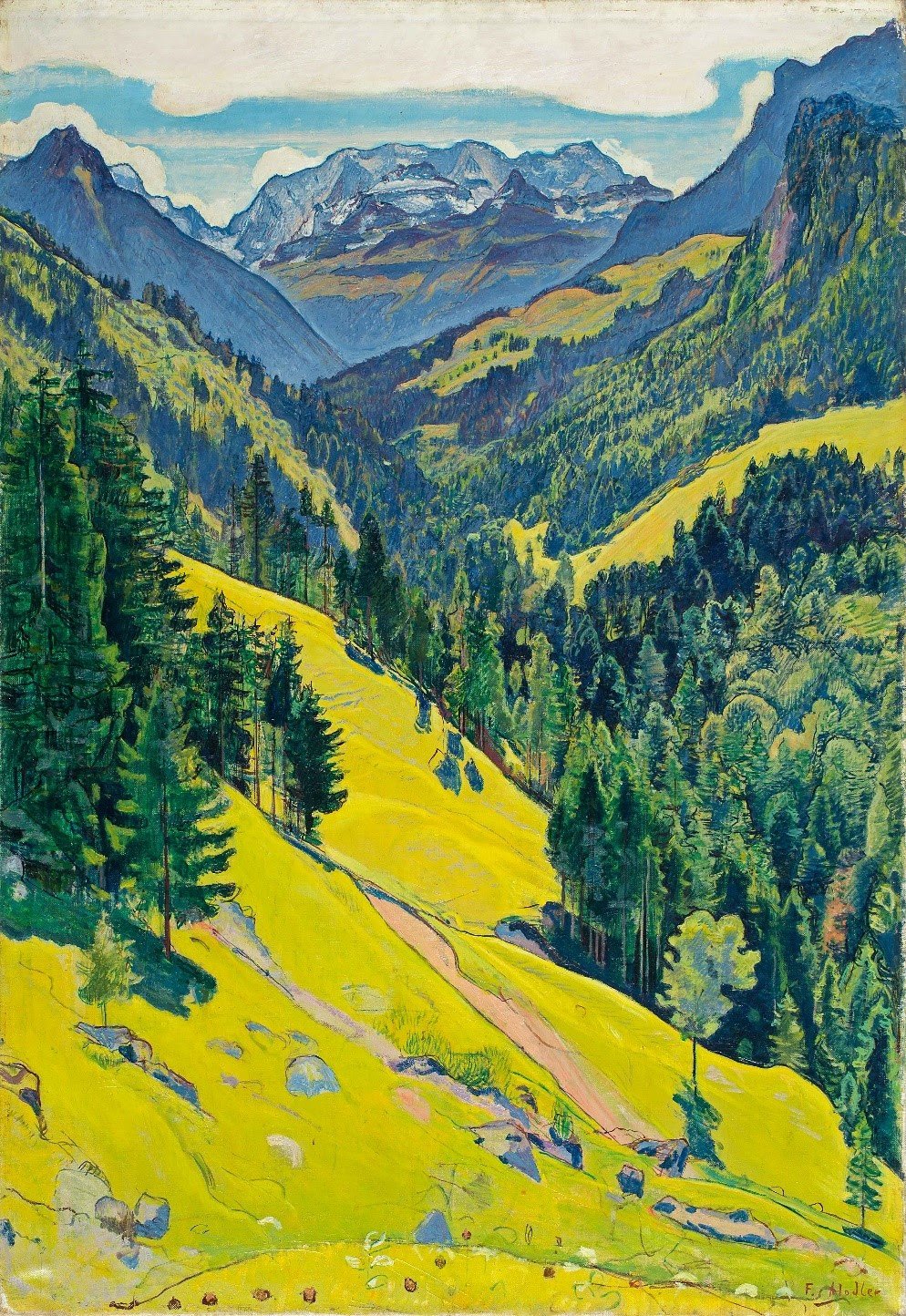 Hodler spent the summer of 1902 in the Bernese Oberland, painting landscapes in and of the Kiental. However, The Kien Valley with the Bluemlisalp massif is unique among Hodler's work, as he chose an aggressively vertical format for the canvas, exaggerating the steep peaks and the interlacing of the foothills.
Drawing on the Swiss landscape tradition but equally engaging with the international avant-garde, Hodler allied Swiss painting with the most advanced currents of modern art.
Over the last century, Hodler's fame has remained strong in his native Switzerland but his work only became widely known elsewhere in the last fifty years. From a landmark exhibition at Harvard in 1972 to the Slade Lectures delivered at Oxford in that same year, the reassessment of Hodler began in the 1970s, as scholars saw his work in relationship to Caspar David Friedrich, Vincent van Gogh, Edvard Munch and other key figures of Northern European modernism.
Hodler was the first to wed radical formal experiment to the rich and thriving indigenous landscape tradition of Alexandre Calame and his realist successors. Calame was a strong influence on early Hodler works – in 1874, Hodler was the winner of the prestigious Concours Calame; and both artists benefited from the new spread of Alpinism across Europe. The National Gallery currently owns three paintings by Calame.
With intensification of colour – see the bright lime green of the hills in this work –, the decorative clouds and a stacking of motifs that nods to Picasso and Braque's Cubist landscapes as well as Japanese woodblock prints, Hodler brought his audience along with him as his art evolved while always telling the truth about his homeland.
The acquisition of The Kien Valley with the Bluemlisalp massif was made possible through funding from the National Gallery Trust; a generous donation from Athene Foundation in memory of its founder, Asbjørn Lunde; and a number of generous legacies including a significant bequest from the Estate of Mr David Leslie Medd OBE.
Christopher Riopelle, Curator of Post 1800 Paintings at the National Gallery, says: 'I am delighted to add this painting to the National Gallery's collection. Hodler links so many strands of art movements germinating across Europe throughout the late nineteenth century, so to make his work available in this public collection feels really important. The colossal scale of nature meets with dazzling colours in this truly arresting painting. I am grateful for the opportunity that acquiring it gives us to tell more of the story of Swiss fine art.'
Gabriele Finaldi, Director of the National Gallery, says: 'Hodler is new to the cast of artists represented in the National Gallery and he makes his appearance with a striking Alpine landscape that glows on the walls of the Gallery. We are grateful to the National Gallery Trust and to the donors who have enabled the acquisition for the nation.'