The Home of Halloween: London Dungeon Reveals the Most Haunted Places In the Capital
This October, the London Dungeon has teamed up with professional paranormal investigator and TV presenter Barri Ghai to uncover the most haunted spots in the capital after unearthing some unexplainable sightings at its own venue.
The London Dungeon is not only The Home of Halloween but the unofficial landlord to a number of mysterious visitors. Stories shared by staff members and visitors include taps turning on and off by themselves, whispering voices heard in empty rooms, wailing women who can't be seen on CCTV and floating silhouettes spotted in the corridors.
The team at London Dungeon have now appointed Barri – star of Discovery's 'Help! My House Is Haunted' – to reveal some of London's other most haunted locations this spooky season. The top five were ranked based on Barri's own personal terrifying experiences from feeling chills running through his body to being pushed and shoved and include:
1. The Ten Bells Pub
(84 Commercial Street) – once called the Jack the Ripper, this Spitalfields pub can't get away from its gory former namesake. On 9 November 1888, Mary Kelly, a 25-year-old described as having 'a fair complexion, light hair and rather attractive features', left the pub before becoming Jack the Ripper's final victim. Her mutilated body was discovered the very next morning in Miller's Court, Dorset Street, on the opposite side of the road from where the now Ten Bells pub stands. More recently, a psychic medium visited the pub after further reports of paranormal activity by staff. She refused to enter a room on the top floor of the building claiming that something terrible had taken place in there involving the murder of a baby. A few years later, a researcher investigating the property discovered a bundle hidden behind the water tank in the roof space directly above that room. It contained old baby clothes that had appeared to have been cut with a knife. And, as if that's not spooky enough, ghostly activity including laughter, footsteps and crying have been reported by staff and visitors. One tenant even reported being pushed by invisible hands.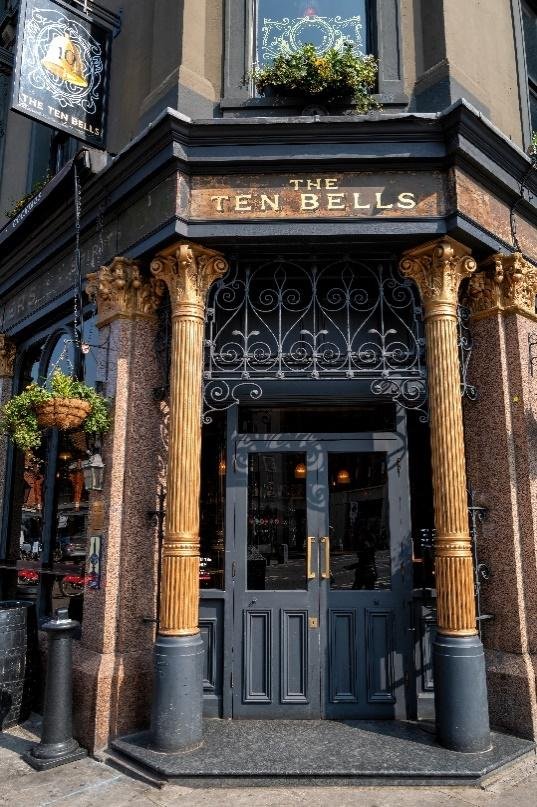 2. The Ragged School Museum
(46-50 Copperfield Road) – this former school sits in the heart of East London and is reported by many to be actively haunted. Poltergeist activity has been documented while bangs, knocks and cries have also been heard echoing throughout its walls. The Ragged School was set up to educate the poorest children from the East End and their treatment was incredibly harsh. In the 1860s a pandemic of cholera swept through the East End, killing 3,000 people and leaving many families devastated. The spirits of these children are believed to haunt the building to this day.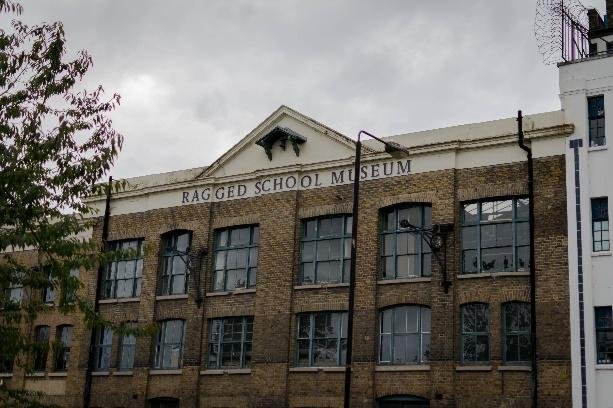 3. Clink Prison
(1 Clink Street) – renowned for its ghostly sightings and unexplained paranormal activity. Shadow figures are frequently seen pacing around and disembodied footsteps, cries, moans and mumbling are heard on an almost daily basis. In the 14th century, inmates were living in terrible conditions. It flooded regularly and they often ended up waist deep in raw sewage and rats. Disease was rife with dysentery, typhoid and malaria. Torture devices such racks, iron boots, balls and chains and gibbets were commonly used to punish inmates. One of the most gruesome torture methods used was called the 'Scavengers Daughter'. This sadistic metal contraption had someone crouching in the foetal position while two metal arms tightened other metal bars fixed around the victims' back. It squeezed and tightened more and more until the prisoner's back, legs, arms, and ribs all broke. They suffered severe internal haemorrhaging and their lungs would compress as blood squirted from every orifice of their body. With almost 900 years of brutal torture and murder taking place within its stone walls, this London location is truly a spooky and foreboding place.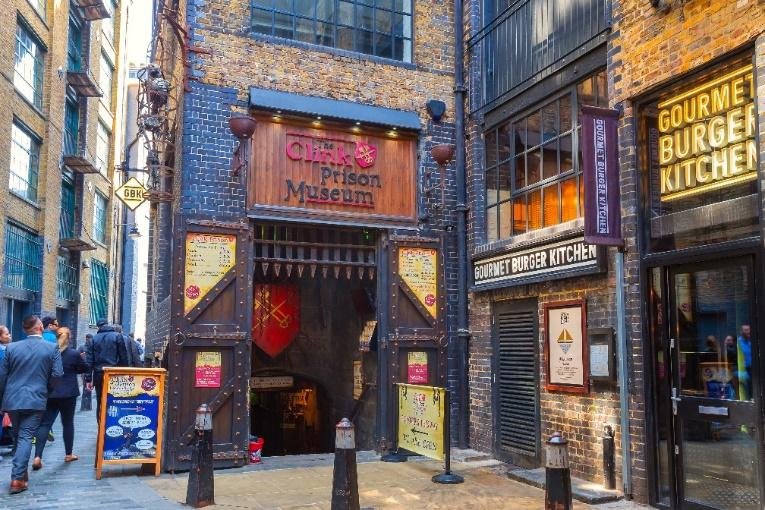 4. The Bleeding Heart Yard
(4 Bleeding Heart Yard) – this cobbled courtyard was probably named after a 16th-century inn sign displayed on a pub called the Bleeding Heart. It was said that the sign depicted the heart of the Virgin Mary pierced by five swords. The history of this place is as horrific as its name suggests. Legend has it that the mutilated body of Lady Elizabeth Hatton was found in the middle of the stone courtyard back in 1626. She had been brutally killed and her legs strewn across the ground, but her heart was still pumping blood onto the cobbled stones. It was rumoured for many hundreds of years that the Devil must have done this. This gruesome incident labelled Bleeding Heart Yard as one of the most frightening places in London. To this day the eerie cries of Lady Elizabeth Hatton asking for help are sometimes heard by those brave enough to venture there alone at night.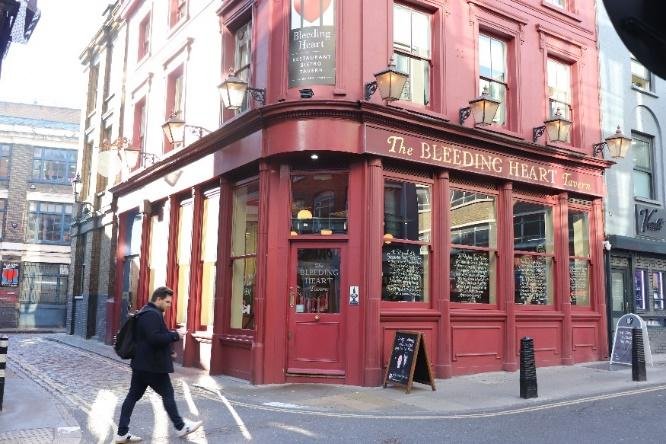 5. 50 Berkeley Square, Mayfair, London
– often considered the most haunted house in London with inexplicable deaths and devilish happenings. Many of its former residents and guests have either mysteriously died in the house or gone insane. So many, in fact, that it was at one point made exempt from Council Tax. The attic room of the house is said to be haunted by the spirit of a young woman who died by suicide by throwing herself from a top-floor window after being abused by her uncle, with her tormented soul said to be capable of frightening people to death. Various eyewitness accounts claim to have seen her ghostly white figure or a strange brown mist. A child believed to have been murdered by a servant and the ghost of a young man, allegedly locked up there and fed through a hole in the door until he eventually succumbed to madness and death, are also said to lurk in the attic's rafters. Over the years brave or foolish men have attempted to spend the night in the attic room of the house but they have either left frantically, gone mad, been found dead or died by suicide years later due to their terrifying ordeals.
Known to have its own series of unexplained events, team members at The London Dungeon often share their own terrifying stories, including one involving a woman who was spotted in the corridor crying as she'd lost her child. After an hour of searching, both the child and mother were nowhere to be found. The team checked CCTV and discovered no such woman or child was, or had been, in the attraction that evening.For those brave enough to face phantoms this Halloween, the London Dungeon has launched its brand-new seasonal show set in the spine-chilling attic of 50 Berkeley Square. Running from October 15 to 31, the London Dungeon will try to uncover the many terrifying and unexplained phenomena that happened at this haunted property.
Speaking on his terrifying findings, ghost expert Barri Ghai said: "London is a truly scary place with so many tormented souls wandering the streets day and night. Having been born and raised in London, I've encountered many of the spiritual entities that haunt our capital first-hand. I've used some of my most terrifying paranormal experiences to compile a list of the most haunted places in London with truly horrific stories. "It's fitting that the London Dungeon, home to many ghouls and ghosts itself, is basing its Halloween show on one of my top five most haunted houses!"
A London Dungeon spokesperson said: "Where better to enjoy Halloween than at a show about a haunted house, taking place in a haunted attraction. We have stories going back years from visitors and staff of unexplained incidents, mysterious silhouettes and chills descending. We've had technicians building sets refusing to set foot back in rooms due to feelings of dread or set pieces constantly breaking.
"As the Home of Halloween, we can't wait for guests to see our new show. We're going bigger and better than ever before with even more frights and scares designed to leave your underwear as clean as the abandoned 50 Berkeley Square attic – filthy! See you there, if you dare…"
For anyone worried their house is haunted like the eery walls of Berkeley Square, The London Dungeon has worked with Barri to provide some guidance on how to tell if you really are being visited by ghosts:
1. A feeling of being watched and a presence around you when alone
2. Frequent problems with electrical items including TVs, lights, cookers and other appliances
3. Sudden and inexplicable temperature drops, often isolated to particular areas of the property
4. Witnessing objects moving by themselves or noticing items going missing
5. Strange smells that seem to come and go, like the scent of perfume, flowers, tobacco or even rotten meat
6. An unknown infestation of flies or other insects may be a sign of a demonic presence
7. The disembodied sound of footsteps, talking, crying, laughing or furniture being moved around
8. Doors, windows, cupboards or curtains opening and closing by themselves
9. Seeing shadow figures or a fleeting glimpse of something moving in your peripheral vision
10. Coming face to face with a full-bodied apparition or partial manifestation is a sure way to know your house may be haunted!
The Home of Halloween, the London Dungeon is a place not to be missed this spooky season. With 16 horrifying shows and thrilling rides, it promises to bring the city's dark history to life delivering ample scream-drenched stories and fear-inducing shocks for a terrifying experience that you'll never forget.
Book ahead to avoid horrible disappointment: www.thedungeons.com/london