The London Eye Transforms Pod into the Ultimate Tennis Fan Zone
Game, Set, Match! Swap court-side seats for a skyline view with champagne and strawberries and cream chocolates in the Serve and Volley Pod!
With SW19's famous grass-court tennis tournament starting next week, the lastminute.com London Eye is gearing visitors up for the on-court action by launching the ultimate sky-high tennis fan zone. Cruising 135m in the air, the Serve and Volley Pod will see guests enjoy strawberries and cream chocolates and a glass of bubbly.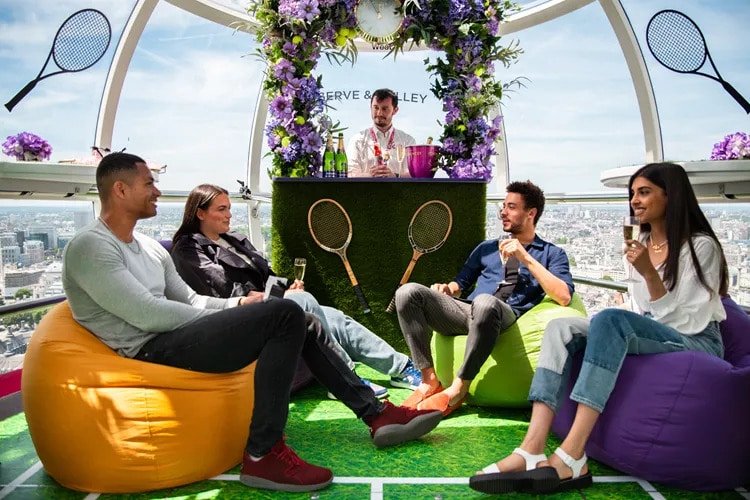 Set against London's iconic skyline, the pod's tennis-tastic décor and grass court flooring serve up an ace for guests, as they look forward to the start of this summer's tournament. Guests can call 'Out!' whilst snapping selfies from classic umpire chairs or relax 'on-court' on beanbags, surrounded by tennis ball-adorned trees, purple florals and a vintage racquet motif. Like any good court, there's even a match clock.
As if that wasn't enough for match point, visitors to this immersive tennis-fest will be served classic British tennis refreshments in the form of chilled Pommery Brut Royal Champagne served by a host, alongside gourmet Hotel Chocolat Strawberries and Cream chocolates.
The London Eye's Serve and Volley Pod will run from today (23rd June) until 9th July, from 12.30 – 5.30pm every day. Tickets cost £65 per person and include a glass of chilled Pommery Brut Royal Champagne served by a host, and a box of Hotel Chocolat Strawberries & Cream chocolates, plus fast track boarding.