Grayson Perry COVID-19 artwork unveiled at Science Museum
Grayson Perry has announced their new ceramic artwork Alan Measles – God in the time of Covid 19
Today the Science Museum unveiled a new ceramic artwork made during the first UK COVID-19 lockdown in 2020 by artist and cultural commentator, Grayson Perry. Alan Measles – God in the time of Covid-19 has been acquired by the Science Museum Group and is now on display in the Science Museum's Medicine: The Wellcome Galleries, the largest medicine galleries in the world.  
The artwork is part of the COVID-19 display, which features objects acquired for the nation through the Group's COVID-19 Collecting Project. The display provides an insight into the medical and scientific advancements of the last two years, but also a sense of the emotional impact of the pandemic. On show are historic empty vials used in the first mass vaccinations worldwide, signage from the Government's daily briefings, homemade face coverings and COVID-19 testing kits.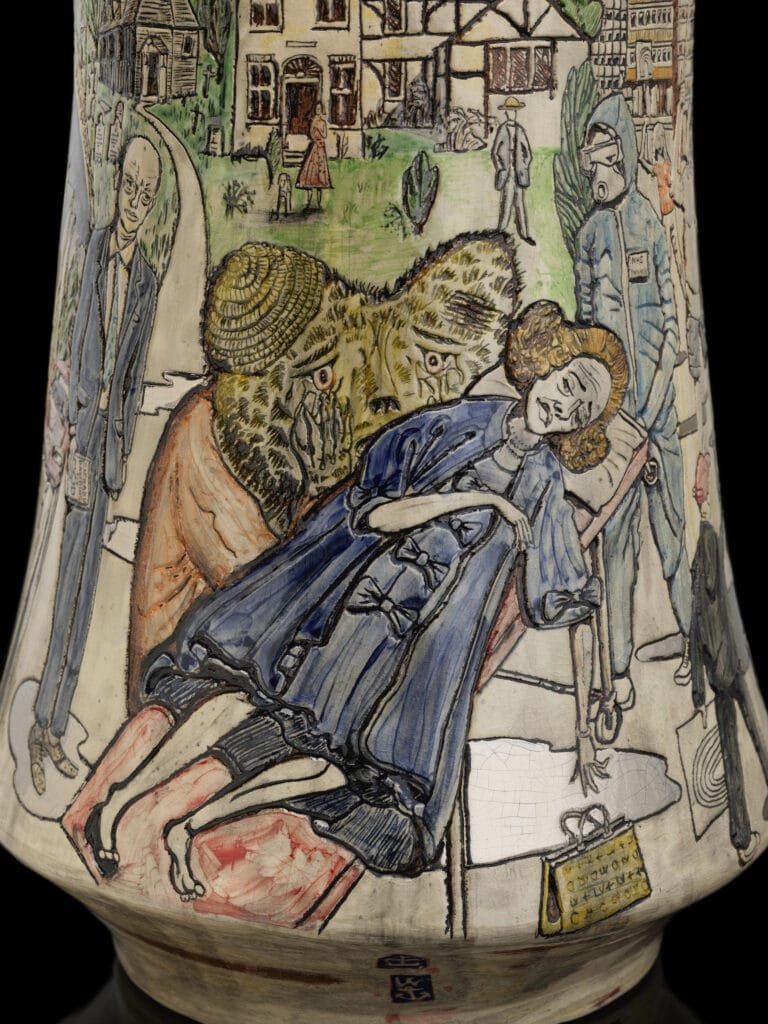 Inspired by historic 'albarello' jars used to hold drugs in hospital pharmacies, examples of which can be seen in the Medicine Galleries, the artwork subverts the jar's origin as a symbol of healing with imagery that depicts a society ravaged by division and despair. The simple colour palette evokes the style of medieval 'Doom paintings' while the fractious tableau echoes the tumultuous dissipation of a Hogarth painting. By drawing on different styles of British art from across the centuries, Perry has created an artwork that feels timeless yet contemporary in the issues it depicts.
The artwork presents a narrative of lockdown experiences featuring Alan Measles (Perry's famous teddy bear) alongside Perry's alter ego Claire, and Professor Chris Whitty, the UK's Chief Medical Adviser. NHS workers are depicted as part of the tableau wearing Personal Protective Equipment (PPE) and holding rainbow signs, like the ones created by members of the public to show support for the NHS, images that became iconic symbols of the pandemic.
In Alan Measles – God in the time of Covid-19, buildings in the background compare the rural and urban experiences of those with and without access to green space during lockdown. The artwork captures the nature of lockdown as a collective time where communities were united by a singular purpose but also as an isolating experience, formed by personal circumstance. 
Artist Grayson Perry, said: 'This work reflects my state of mind during a time of great fear and uncertainty. Alan Measles – my personal metaphor for God, masculinity, care and security – is shown distraught because his other half is seriously ill. His efforts helping at the hospital are mocked by protestors. Depressed and exhausted he joins a group of homeless people beneath a motorway.'