CETTE MAISON Directed by Miryam Charles
Featuring Florence Blain Mhave, Schelby Jean-Baptiste, Eve Duranceau, Yardly Kavanagh, Mireille Metellus, Nadine Jean, Tracy Marcelin, Matthew Rankin
October, BFI Southbank plus Q&A with Miryam Charles
3 November, The Ritzy Brixton with Birds Eye View, Reclaim the Frame
plus Q&A with Miryam Charles
Release 4 November 2022
at ICA, London; Ritzy, Brixton plus venues tbc
Also screening:
At Picturehouse Cinemas, Discover Strand, from 11 November
BFI Southbank, from 11 November
HOME, Manchester, from 25 November
Distributed by T A P E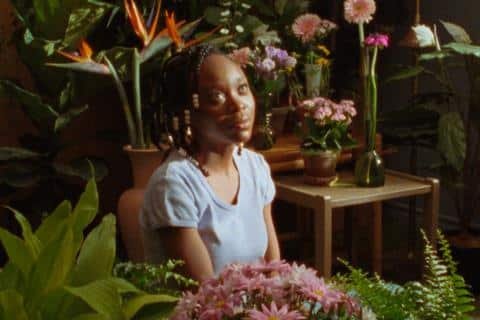 This autumn, T A P E releases their first film to UK Cinemas on 4 November: Miryam Charles' haunting and tender debut feature CETTE MAISON (This house) – sumptuously shot on 16mm. Miryam Charles will attend preview screenings at BFI Southbank on 31 October and Picturehouse Ritzy, Brixton in partnership with Birds Eye View, Reclaim The Frame on 3 November. CETTE MAISON will screen at all Picturehouse Cinemas as part of Discover Strand from 11 November, plus BFI Southbank (11 November) and HOME, Manchester (25 November) plus others tbc.
CETTE MAISON is a French-Canadian magical realism film set in 2008. 10 years after the tragic and suspicious death of a teenage girl, her cousin examines the past causes and future consequences of this unsolved crime. Like an imaginedbiography, the film explores the relationship between the security of the living space and the violence that can jeopardize it. This visually stunning film imaginatively explores themes of grief, motherhood and trauma.
From Haitian descent, Miryam Charles is a director, producer and cinematographer living in Montreal. She is the director of several short films which explore themes related to exile and legacies of colonisation. CETTE MAISON takes the death of the director's 14 year old cousin, Tessa as a starting point, and moves freely in time to contemplate their family's migration from Haiti and speculates on futures that tragically never happen. Says Charles, "I am a child of Haiti. In a way, I refuse reality and try to understand it through art. Knowing that I won't be able to do it completely. I tell stories, constant wanderings without precise paths of destinations. I dream of coming home. So I travel endlessly in my head, in my heart, on the page, then onto the screen".
T A P E was founded by Isra Al Kassi and Angela Moneke in 2015 to curate screening events which respond to the lack of representation on screen and their mission remains to support under-served titles, with a focus on representation, identity and heritage, to find new audiences, create conversations and collaborations across the creative sector, through theatrical distribution.
Isra Al Kassi, T A P E says, "We're thrilled that the first T A P E distributed film is the stunning CETTE MAISON. This is an exciting moment for us. Distribution is a key a part of T A P E 's growth and development strategy, and a natural progression for us as we continue to bring underserved films to a wider audience, and to continue supporting the could-be-cult-classics at risk of slipping through the fingers of U.K. audiences. We look forward to building a platform where we see films and support filmmakers through from development to exhibition."
Festivals:
Berlin International Film Festival
Third Horizon Film Festival
Hot Docs Canadian International Documentary Festival
New Horizons Film Festival
Taipei Film Festival
Curitiba International Film Festival
Frames of Representation 2022 – ICA
IndieLisboa
Art of the Real 2022