Autumn Programme | Upcoming at Serpentine
Atta Kwami, Kamala Ibrahim Ishag, Barbara Chase-Riboud and more live programme.
Upcoming Exhibitions and Public Art
Serpentine will unveil the final mural from the late Atta Kwami as the result of the artist winning the Maria Lassnig Prize 2021. We will also present the first London solo exhibition of pioneering Sudanese artist Kamala Ibrahim Ishag's works with Sharjah Art Foundation and The Africa Institute, as well as staging an exhibition of over 30 works from renowned American-born visual artist, sculptor and novelist Barbara Chase-Riboud.
The extensive live programme, hosted in Theaster Gates' Black Chapelwill continue into the autumn with performances from Josiane M.H. Pozi, Himali Singh Soin, Bones Tan Jones, Standing On The Corner Art Ensemble and it will culminate with The Black Monks, and Grammy Awards winner Corinne Bailey Rae.
Alexandra Daisy Ginsberg's Pollinator Pathmaker will remain on view in Kensington Gardens as its planting shifts with seasonal change to welcome new pollinators.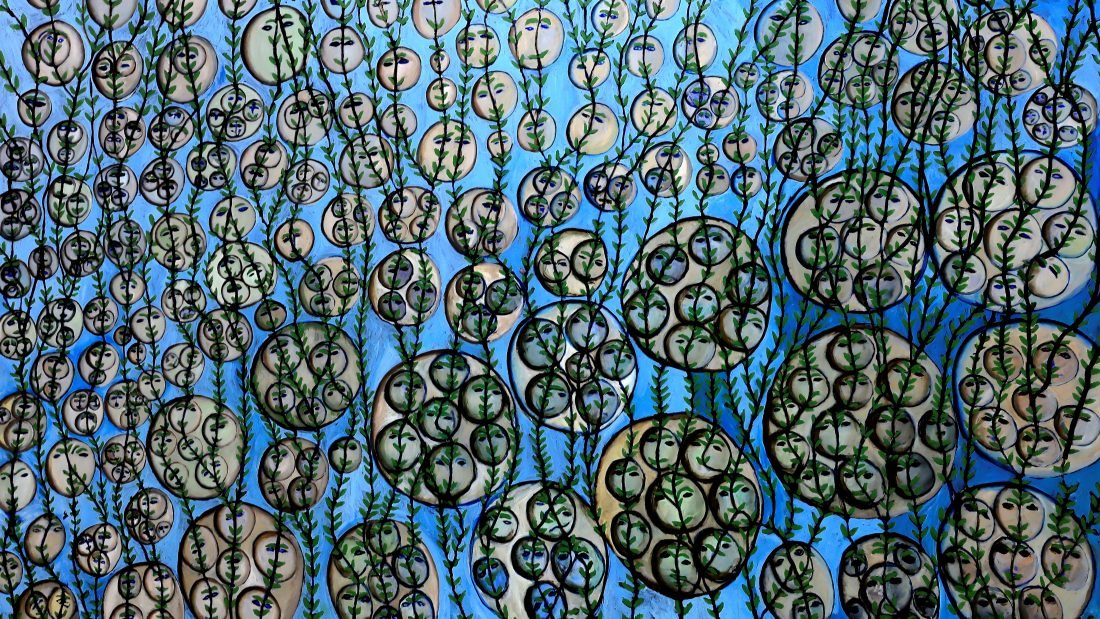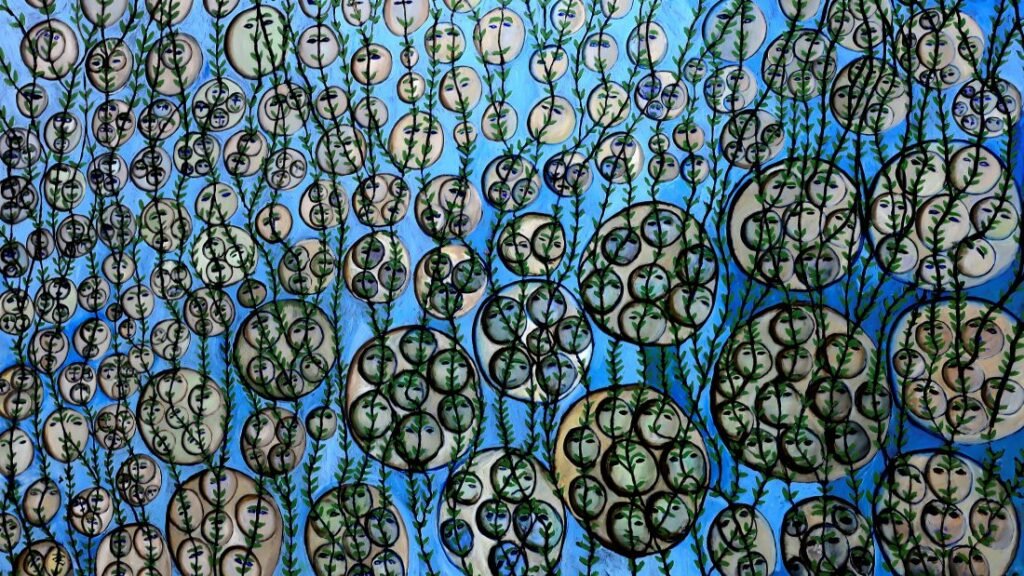 EXHIBITION
KAMALA IBRAHIM-ISHAG

SERPENTINE SOUTH
FRIDAY 7 OCTOBER 2022 – SUNDAY 29 JANUARY 2023
PRESS VIEW, THURSDAY 6 OCTOBER 2022, 9.30PM – 12PM
RSVP HERE
This autumn, Serpentine presents a major exhibition of pioneering Sudanese artist Kamala Ibrahim Ishag (b. 1939) organised with Sharjah Art Foundation in collaboration with The Africa Institute. The exhibition at Serpentine South in London will take place from 7 October to 29 January 2023.

Ishag has forged a unique and expansive practice which is not defined by a singular style or movement. Her work embraces and expresses different earthly and spiritual landscapes and histories of Sudanese visual culture across many eras. The artist also roots her practice around subjects including women, spiritualism, Zar ceremonies, plants and stories from her mother and grandmothers in relation to how she has experienced them.

The exhibition celebrates the breadth and importance of Ishag's work and offers London audiences insights into her worlds, featuring works spanning from the 1960s to today, including her time in London studying at the Royal College of Art (RCA) from 1964-66, in addition to new paintings created in her Khartoum studio that have previously never been presented. Alongside large-scale canvases and works on paper, Ishag also paints on different surfaces such as calabashes, screens and leather drums. A selection of the artist's graphic design practice and material from her personal archive will offer context to her prolific career and experiences of living and working predominantly in Sudan, in addition to a shorter period of self-exile in London and Muscat, in the Sultanate of Oman for part of the 1990s and early 2000s.
EXHIBITION
BARBARA CHASE-RIBOUD: INFINITE FOLDS

SERPENTINE NORTH
TUESDAY 11 OCTOBER 2022 – SUNDAY 29 JANUARY 2023
PRESS VIEW, TUESDAY 11 OCTOBER 2022, 9.30AM – 12PM
RSVP HERE
This autumn, Serpentine will present Infinite Folds, an exhibition featuring over 30 works by American-born visual artist, sculptor, novelist and poet Barbara Chase-Riboud. On display at Serpentine North from 11 October 2022 to 29 January 2023, this is the artist's first institutional solo presentation in the UK.With a career spanning over seven decades, Chase-Riboud's innovation in sculptural technique and materiality is characterised by the interplay between folds of cast bronze and aluminium and coils of wool and silk which are knotted, braided, looped and woven. By combining materials with different qualities, such as hard versus soft, light against heavy, and tactile versus rigid, Chase-Riboud's works lend an aesthetic consideration to the sculptural base and speak to the artist's interest in creating forms that unify opposing forces.

The exhibition will feature a focused selection of large-scale sculptures alongside works on paper from the 1960s to the present day. The earliest piece in the show, Walking Angel (1962), will depict a hybrid being replete with wings that resemble leaves or an oyster shell. This work is emblematic of the artist's experimental approach to casting techniques, which in the early years of her practice involved casting figurative sculptures in bronze from an assemblage of found animal bones and vegetable matter. Walking Angel also draws on the artist's interest in ancient myths and surrealist influences that would occupy her later pieces which progressively moved towards abstraction. Also on display are Chase-Riboud's early pieces Sejanus (1966) and Meta Mondrian (1967), a scale-modelof the artist's first public sculpture commission Wheaton Plaza Fountain (1960, now destroyed) constructed from polished aluminum and cascading silk that emulates water.
PUBLIC ART
ATTA KWAMI
MARIA LASSNIG PRIZE MURAL

SERPENTINE NORTH GARDEN
TUESDAY 6 SEPTEMBER 2022 – SUNDAY 3 SEPTEMBER 2023
PRESS VIEW, TUESDAY 6 SEPTEMBER 2022, 9.30AM – 12PM
Announcement embargoed until 6 September 2022, 10am
This September, Serpentine will unveil the last mural commission from the late painter, printmaker, independent art historian and curator, Atta Kwami (1956 – 2021). The mural originates from a painting that Kwami was reworking in his studio in 2021 shortly before his death, making this the final, landmark public work of his pioneering oeuvre. The commission results from Kwami winning the 2021 Maria Lassnig Prize.
DzidzƆ kple amenuveve (Joy and Grace), 2021-22, embodies Kwami's vibrant palette and abstract painting style. It characteristically plays with the colour and form improvisations that are distinctive of Ghanaian architecture and African strip-woven textiles, especially kente, made famous by the Ewe and Asante people of Ghana. Kwami was known for painting kiosks and archway sculptures that were conceived as expanded three-dimensional paintings within different landscapes. The mural dynamically connects with the surrounding garden designed by Arabella Lennox-Boyd by quoting the blues of the sky, the pinks, greens and browns from the foliage and simultaneously contrasts with its natural forms. It is a visionary response to the garden and it resonates with the planted landscape, each season and the wider environment of the park over the course of a year.
The work is painted on wood, the surface Kwami used for outdoor constructions, by the artist's widow Pamela Clarkson, who shared a studio with him for over 30 years, and his friend, designer, Andy Philpott who collaborated on Kwami's constructions in Amsterdam, Folkestone and Loughborough.
FOR MORE INFORMATION
Nicolas Smirnoff, Head of Media Relations, nicolass@serpentinegalleries.org
Laura Gosney, Press Officer, laurag@serpentinegalleries.org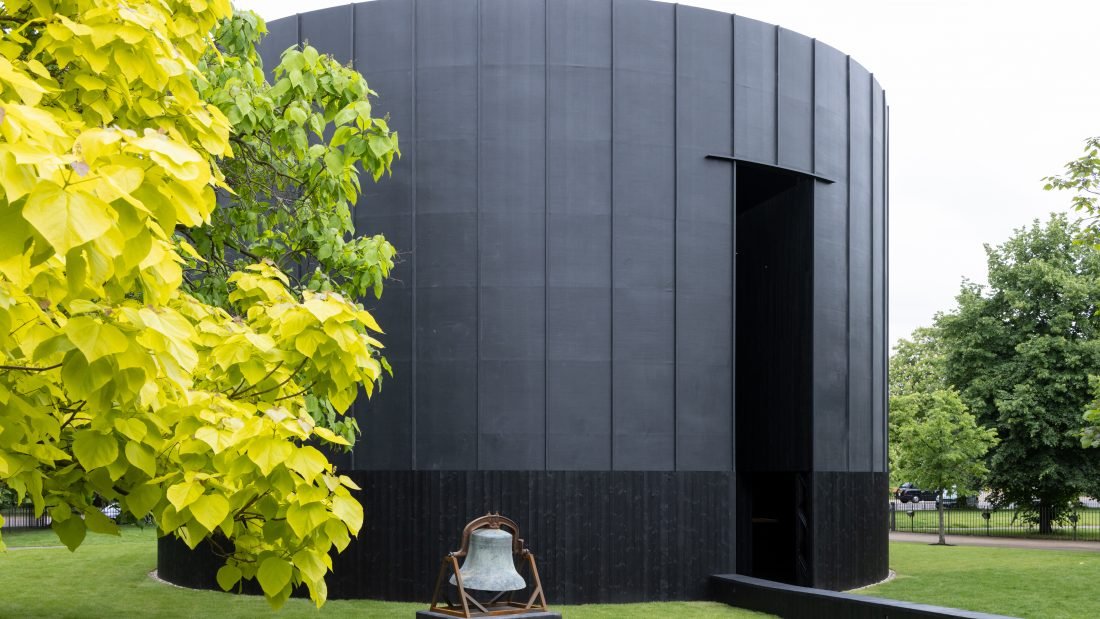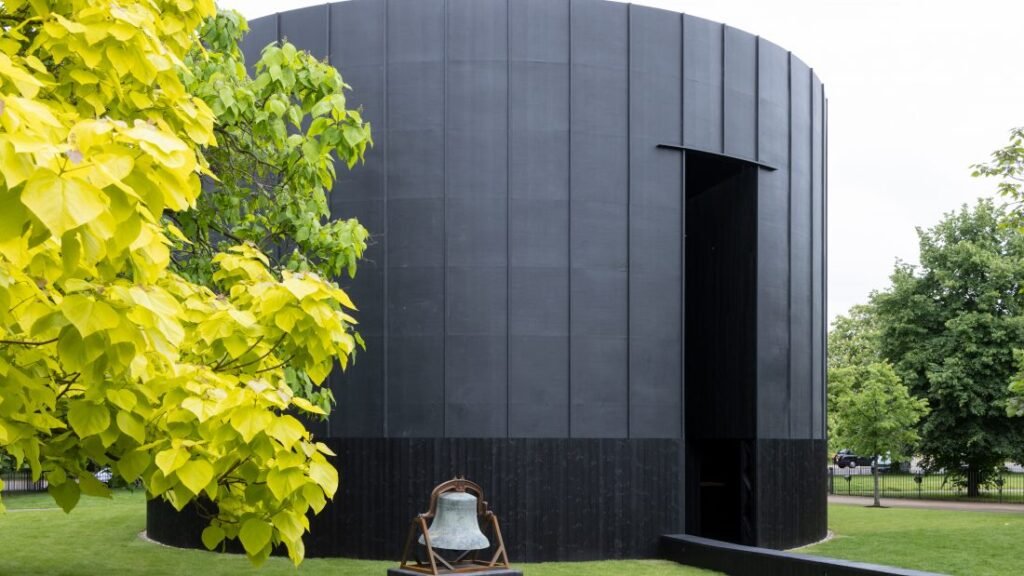 BLACK CHAPEL, DESIGNED BY THEASTER GATES

SERPENTINE SOUTH LAWN
UNTIL SUNDAY 16 OCTOBER 2022
The 21st Serpentine Pavilion, Black Chapel, designed by Chicago-based artist Theaster Gates is realised with the architectural support of Adjaye Associates with Goldman Sachs supporting the annual project for the eighth consecutive year. Conceived as a space for gathering, meditation and participation, with an emphasis on sacred music, Black Chapel becomes a platform for Serpentine's live programme throughout the summer and beyond, offering reflection, connection and joy to the public.

UPCOMING EVENTS IN THE PAVILION
Saturday 10 September, 8pm, Himali Singh Soin: Static Range
Saturday 17 September, 3pm, Bones Tan Jones: Fertile Souls
Friday 30 September, 8pm, Josiane M.H. Pozi
FRIEZE WEEK
Thursday 13 October, 8pm, Standing On The Corner Art Ensemble
Friday 14 October, Corinne Bailey Rae
Saturday 15 October, The Black Monks
TO RSVP AND FOR MORE INFORMATION
Nicolas Smirnoff, Head of Media Relations, nicolass@serpentinegalleries.org
Laura Gosney, Press Officer, laurag@serpentinegalleries.org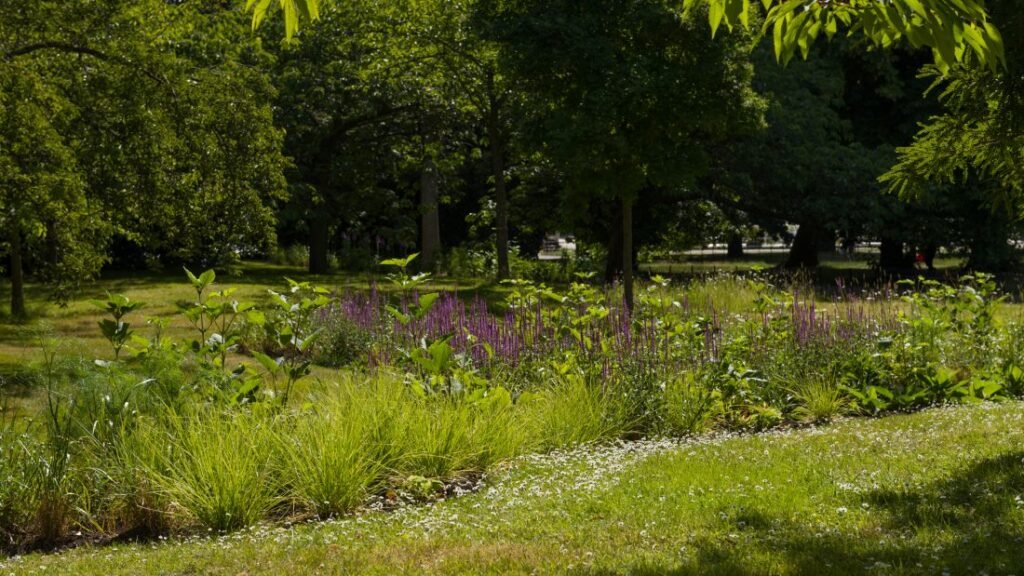 ALEXANDRA DAISY GINSBERG
POLLINATOR PATHMAKER
NORTH FLOWER WALK, KENSINGTON GARDENS
NEXT TO LANCASTER GATE ENTRANCE TO THE PARK
As part of Back to Earth 2022, Serpentine launched the first London incarnation of artist Alexandra Daisy Ginsberg's Pollinator Pathmaker. Back to Earth is Serpentine's continuous multidisciplinary programme evoking reactions to the environmental emergency.In collaboration with The Royal Parks, this third edition of the garden at North Flower Walk, an area measuring 227 metres long in Kensington Gardens, comprises 4,471 plants including over 60 different species. It was planted early April and is now in bloom for visitors and pollinators to enjoy.
In line with Ginsberg's artistic practice, Pollinator Pathmaker uses technology to raise awareness of the decline of pollinators, with the ambition to make the world's largest climate positive artwork. The commission explores the story of the UK's indigenous pollinators: their vital role, their current plight, and the plans and need for their conservation.
Using the data-led method of algorithmic planting found at www.pollinator.art, created in collaboration with Google Arts & Culture, the project focuses on the needs of pollinators in the UK by creating planting designed for their tastes, rather than human taste.
MORE INFORMATION HERE